VPAC Entrance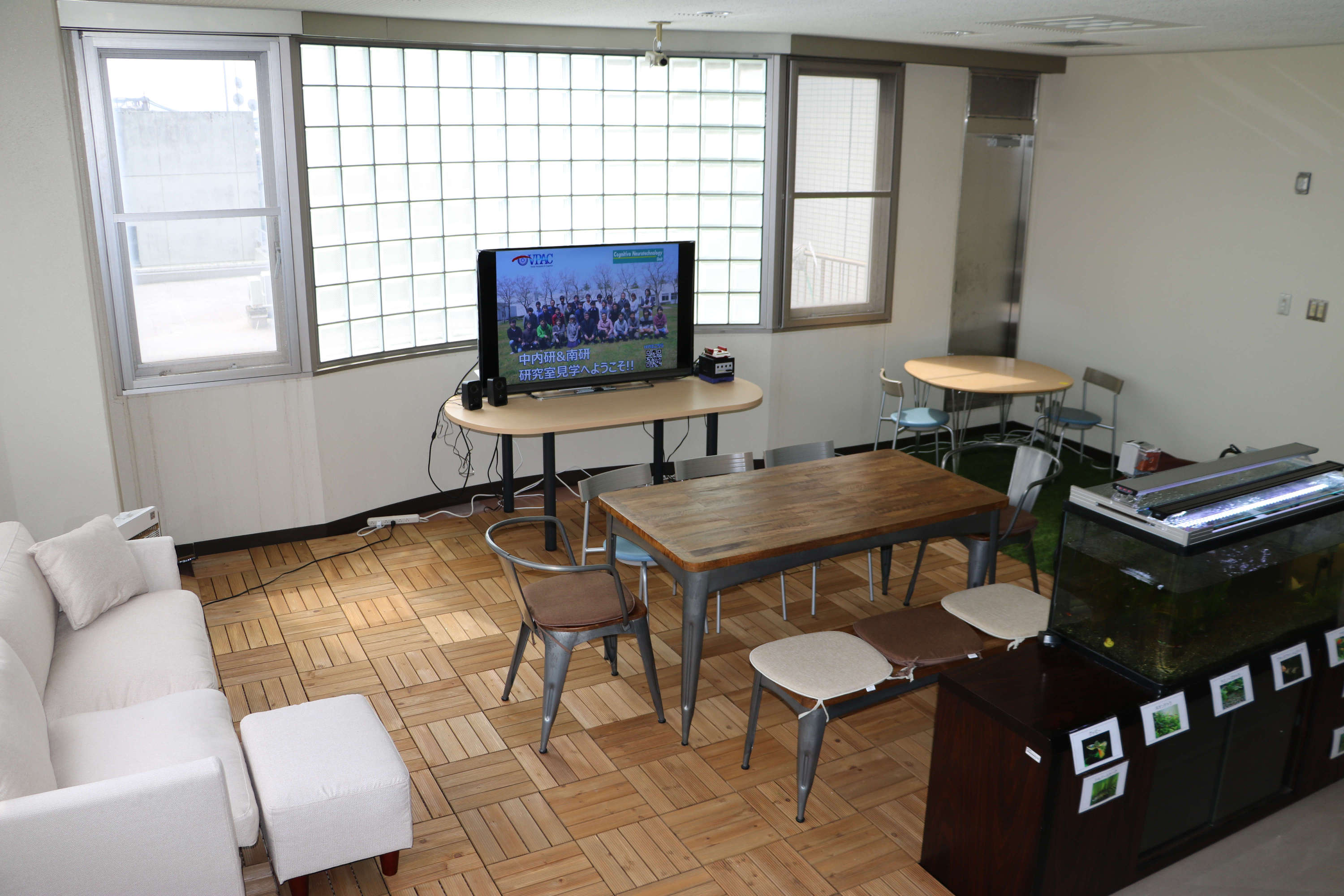 Out side the elevator on the 7th floor of F2 building is VPAC Lab's entrance. Not just the television and sofas, but the artificial turf, bead cushion, VPAC AQUARIUM, makes the healing space for the laboratory.
Student Office Room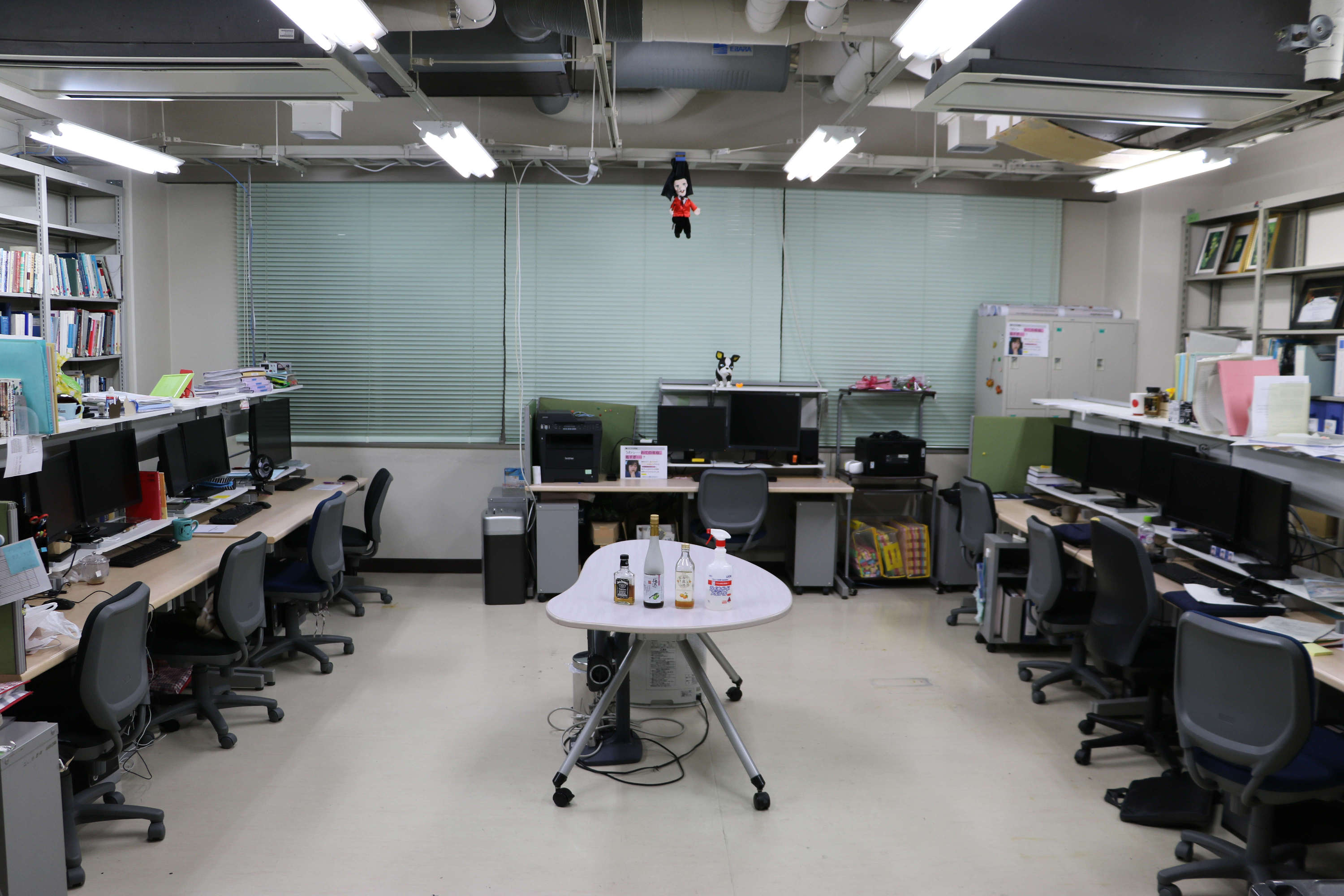 We each have a desk and computer in the office. B4 Office room is at F2-701-1,M1 Office room for F2-701-2,M2 Office room at F2-701-3 and Dr Office room at F2-703-2. And our secretary has a desk near the entrance of F2-701-2.
Staff Office Room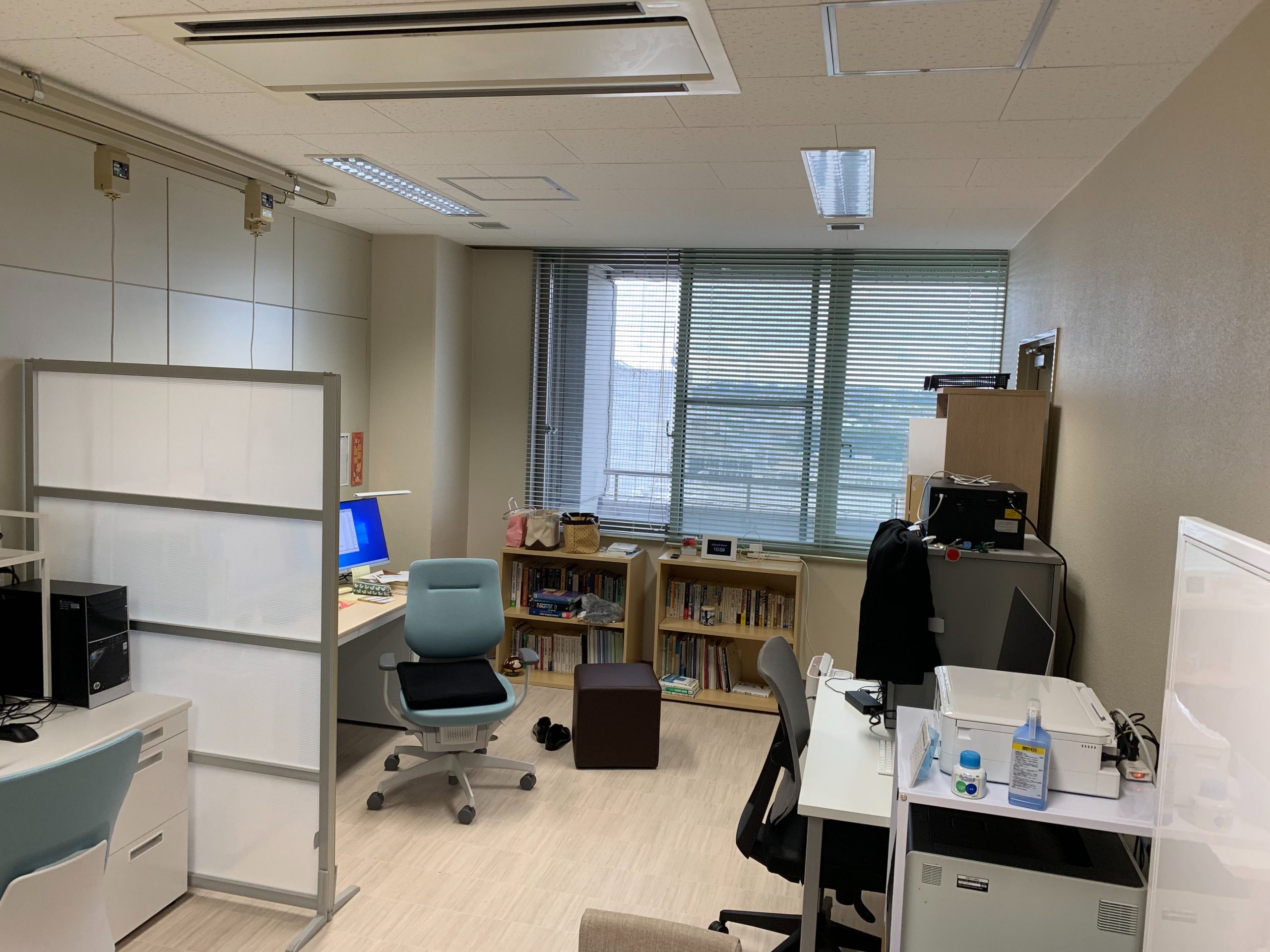 The place is F-703-1 on the 7th floor of the Research Center building, where Assistant Professor Hine's desk is located. It's a clean room with great furniture and appearance.
Meeting Room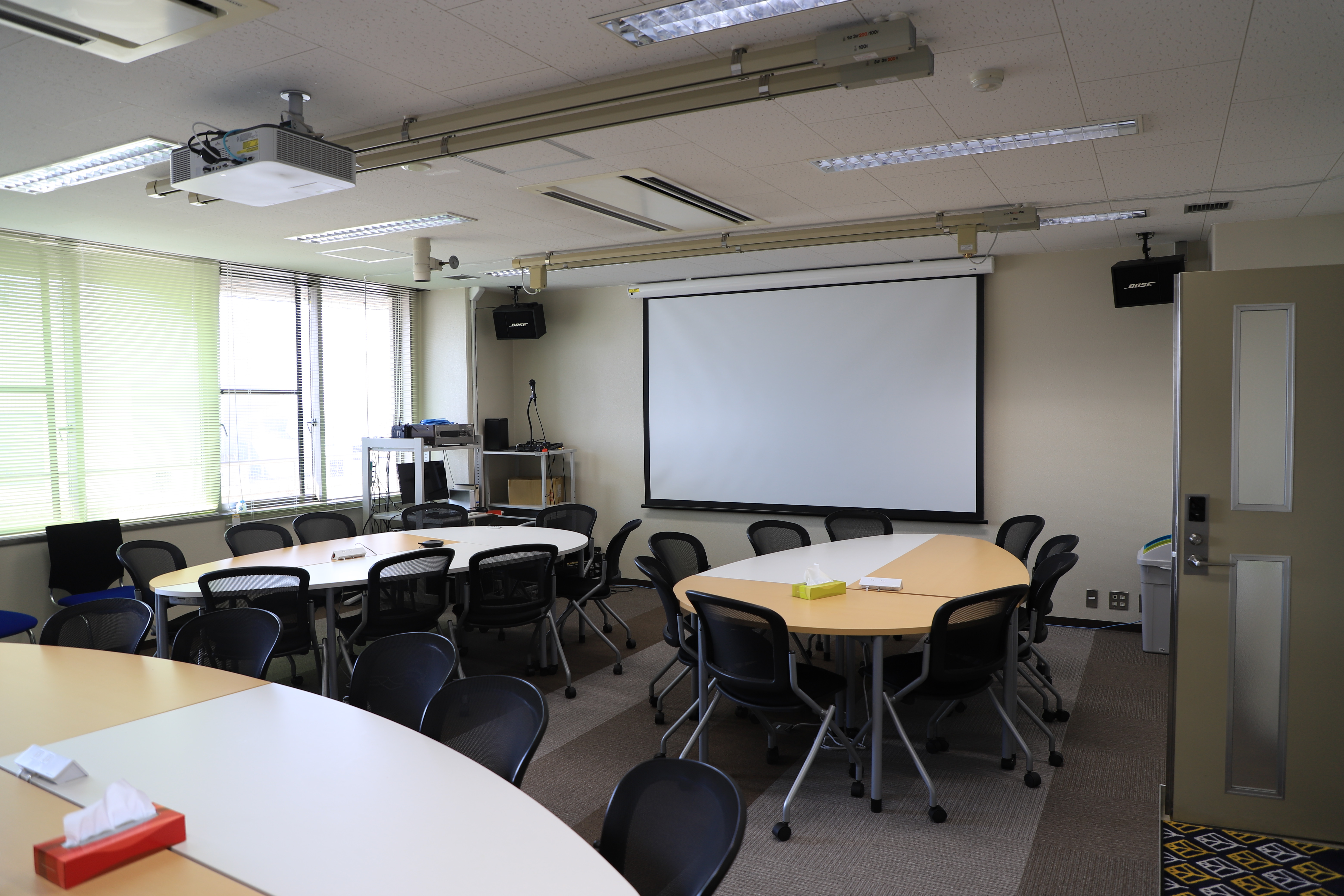 Our laboratory also focuses on developing the ability to present research results. The meeting room is equipped with a large screen, and possible to practice our presentation.
Projector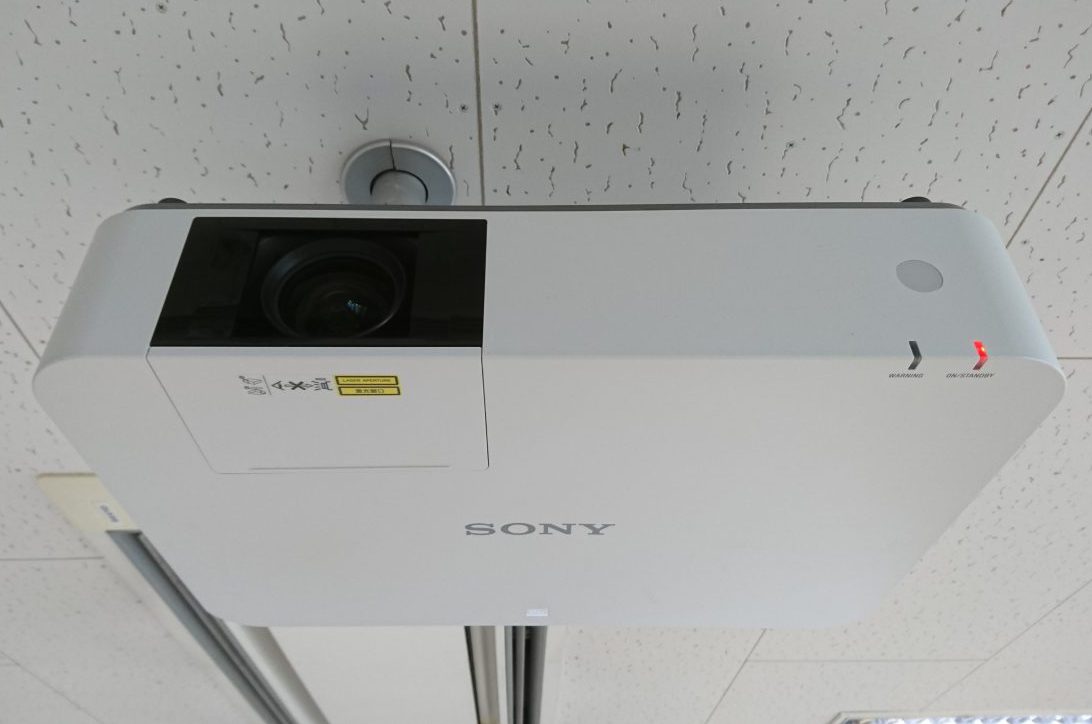 The projector is equipped in the meeting room. It is used not only during announcement and presentation practice, but also for frequent meetings. It was replaced in 2018.
VPAC AQUARIUM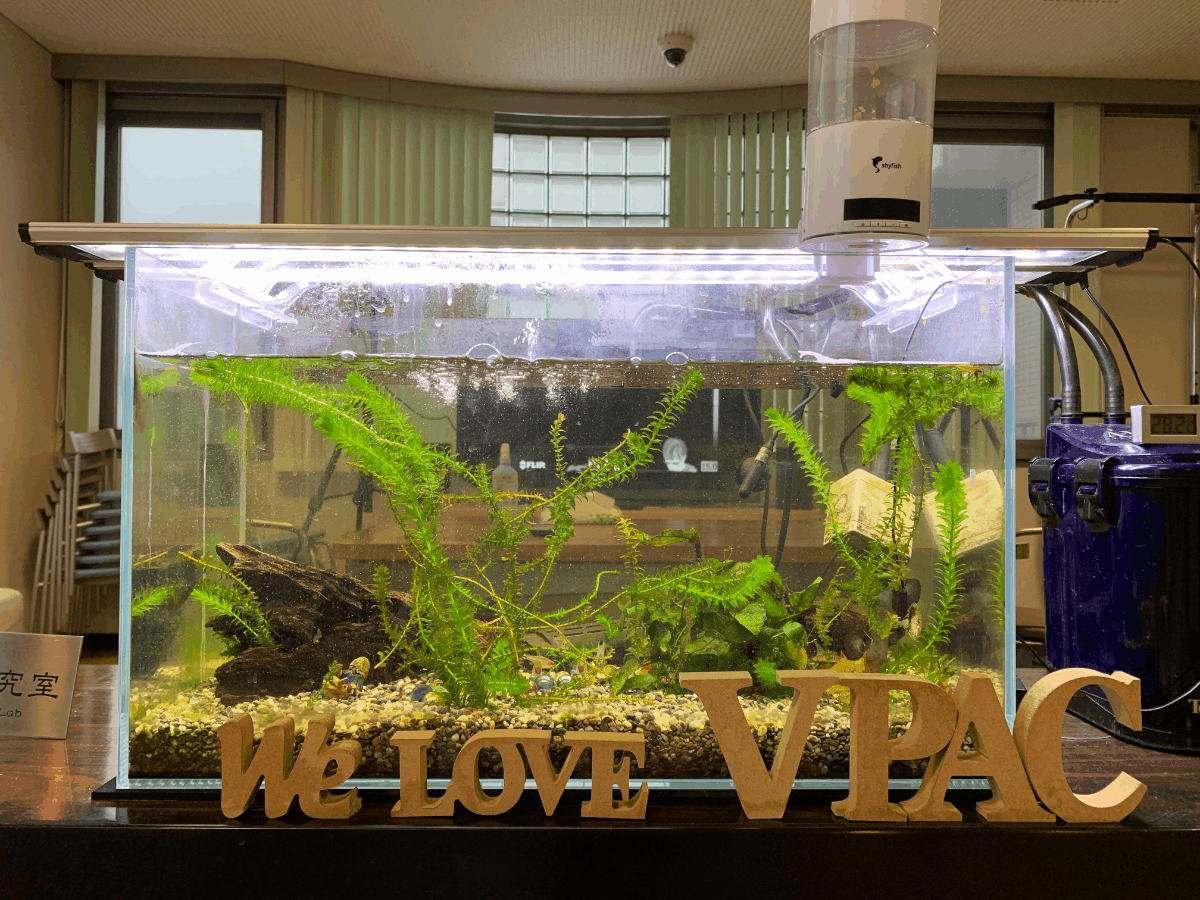 The VPAC AQUARIUM caretaker has been inaugurated since 2017, breeding several fish such as Guppy, Neon Tetra, Otosinculus, Yamato Shrimp and other fish.New aquarium, pebbles and feeder in 2019. The fishes are swimming happily in the beautiful tank.
Book Shelfs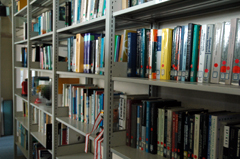 There are many books related to our research. Many collections such as living body (neuro), vision, cognition, signal processing, etc. are stocked, so there are no use to go to the libraries.
Printer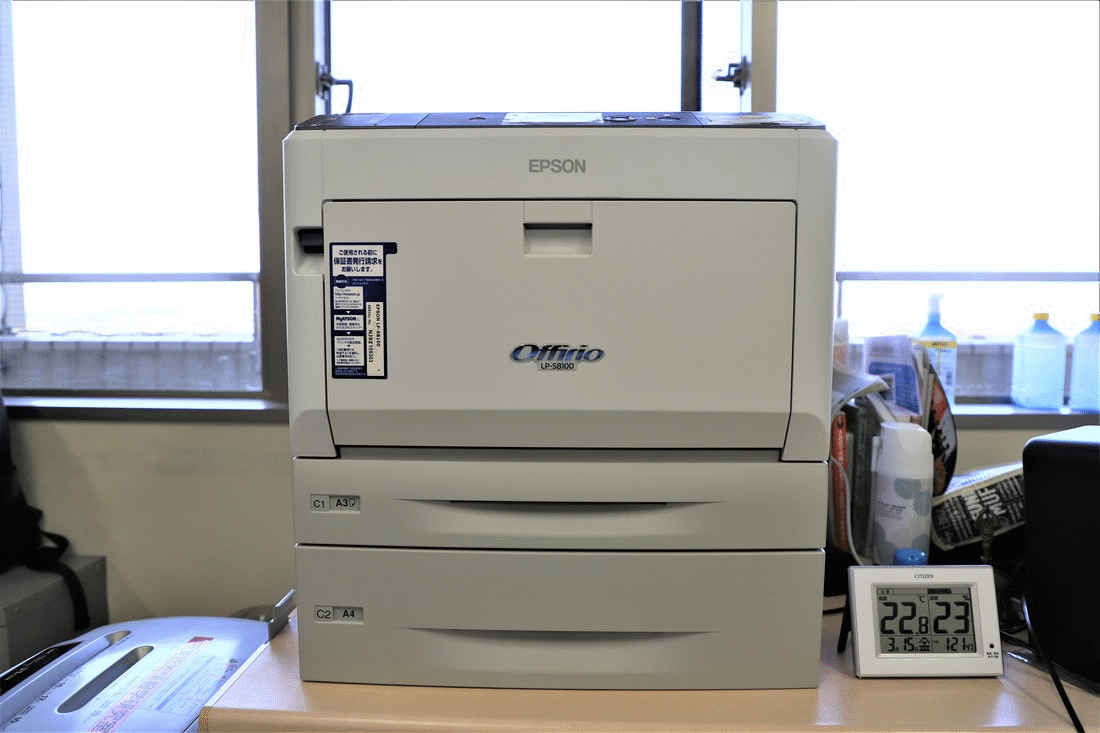 In our laboratory there are many researches on color, so we have many high-performance printers.
Kettle & Rice Cooker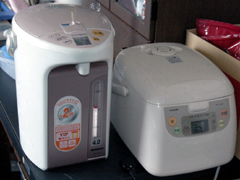 The kettle is installed in the students office room and the meeting room. You can use it for lunch and relaxation time to have coffee, tea, cup noodles. Students' office has rice cookers and you can cook rice.
Experiment Laboratory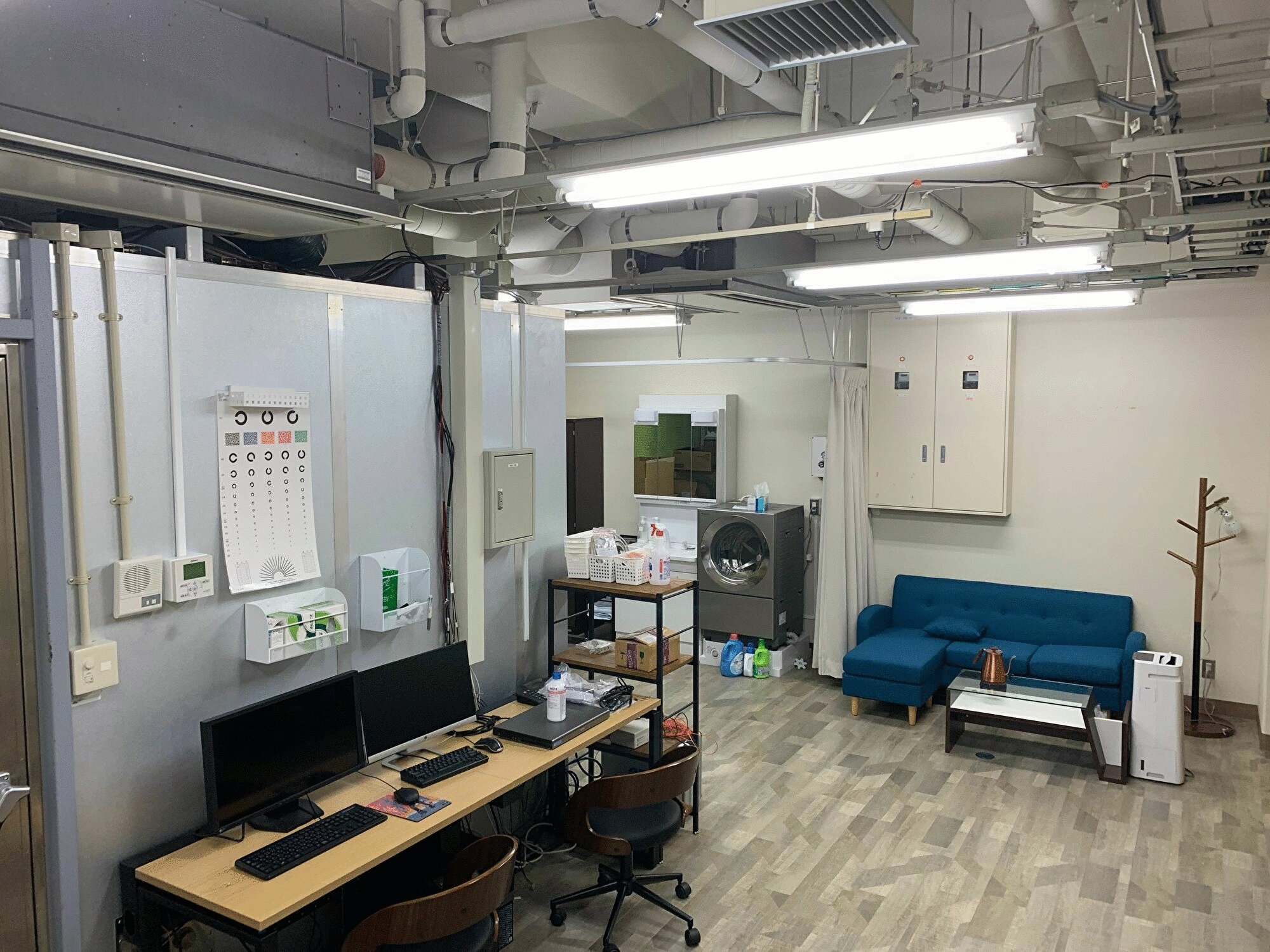 There are two laboratories in the information communication experiment building, and we are conducting psychophysical experiments, spectrum measurement, electroencephalogram measurement.
Gifts from Graduates
Microwave Oven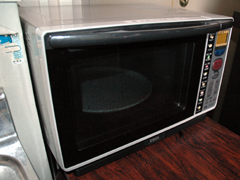 Gift from the FY2003 graduates. You can warm your lunch and it is often used. There is even the oven function so why don't you try bake some cake?
Hot-plate
Gift from the FY2004 graduates. Because of the size, it can be used for all the laboratory members party. Moreover, you can make Takoyaki.
IH Cooker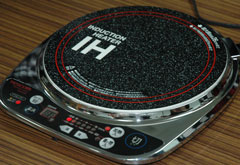 Gift from the FY2006 graduates. It's IH so there's no fire concern.
Vacuum Cleaner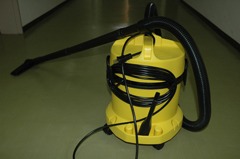 Gift from the FY2007 graduates. Cleaning will be further improved with the tremendous vacuum power.
Air Cleaner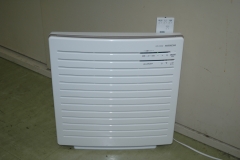 Gift from the FY2008 graduates. This purifier can remove pollen, house dust, living odor and other dust in the air. For even further research progress.
Frying Pan Set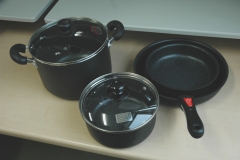 Gift from the FY2009 graduates. 2 pots, 2 frying pans, with marble fluorine processing strong against scratches and dirt.
Coffee Maker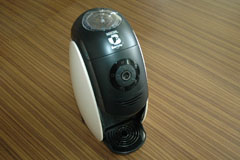 Gift from the FY2010 graduates. You can enjoy black, espresso, cafe au lait, cappuccino for your research break.
Laboratory Name Plate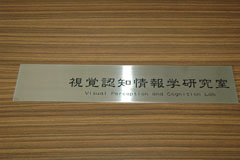 Gift from the FY2011 graduates. From Nishino and Toyoda. With the renamed lab name "Visual Perception and Cognition".
Radio Controlled Clock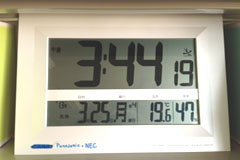 Gift from the FY2012 graduates. From Yokota, Himeno,Nutchakan and teacher Nagai. It's not just a radio clock, you can know the date, temperature and the humidity
Cooler box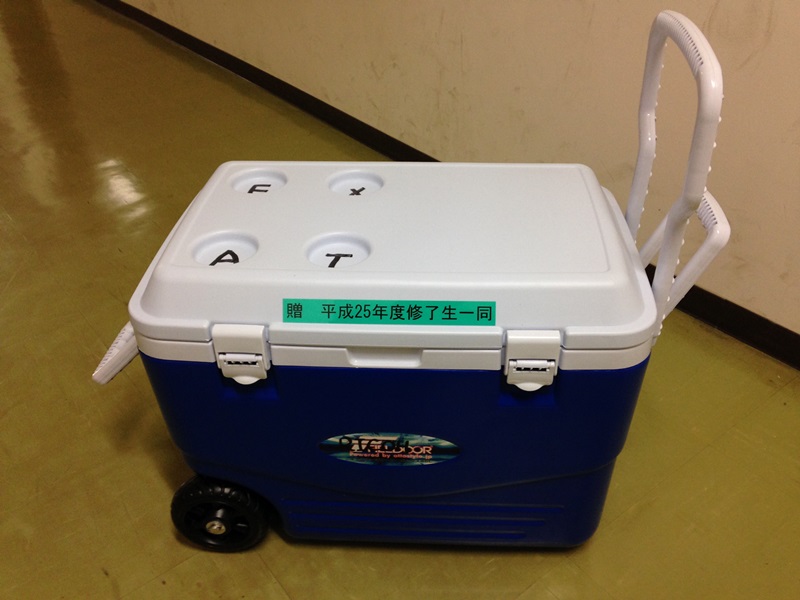 Gift from the FY2013 graduates. From Nakashima, Kominato, Nakamura, Nishijima and Matsushima. We really wanted this for the Lab trips and we'll have a cold glass of beer with this.
Boiling Kettle & IH Cooker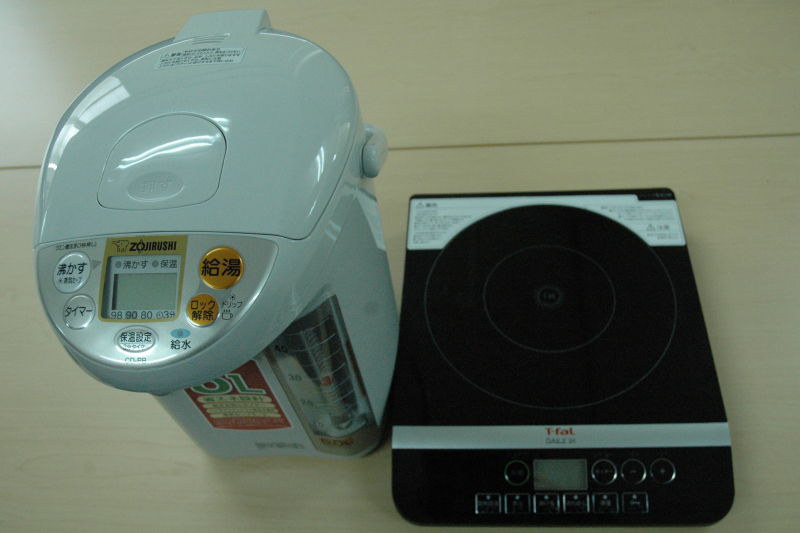 Gift from the FY2014 graduates. From Researcher Tani, Azuma, Tani, Nagai and Yamagishi. 5L boiling kettle will make our coffee break even more convenient. The new IH cooker will be used for the lab events.
Cordless Vacuum Cleaner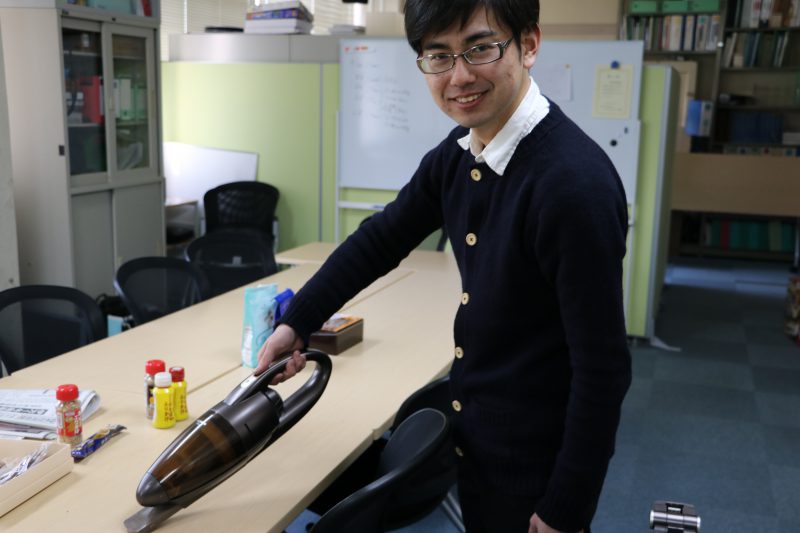 Gift from the FY2015 graduates. From Sato, Ohata, Kinoshita and Shinkai. It's cordless and easy to use. (Model: Sato)
Hot-plate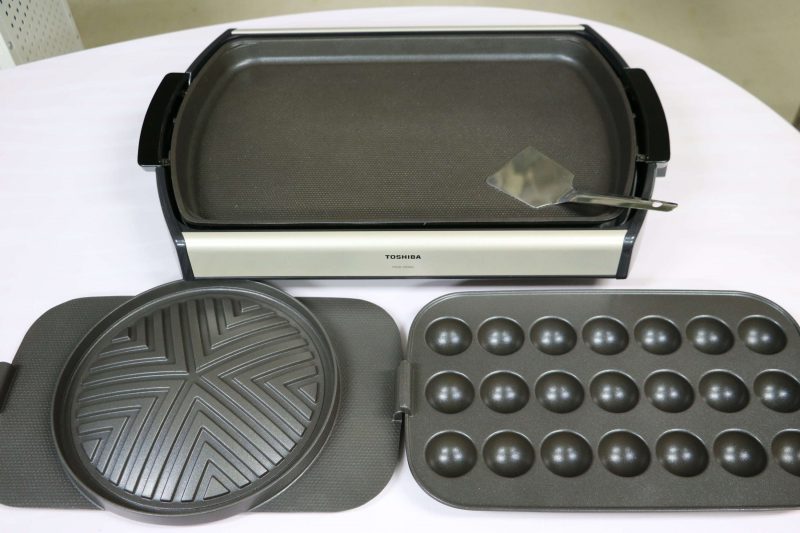 Gift from the FY2016 graduates. From Ito, Katagiri, Minami and Takebayashi. With extension plates for Yakiniku, Genghis Khan and Takoyaki.
Microwave Oven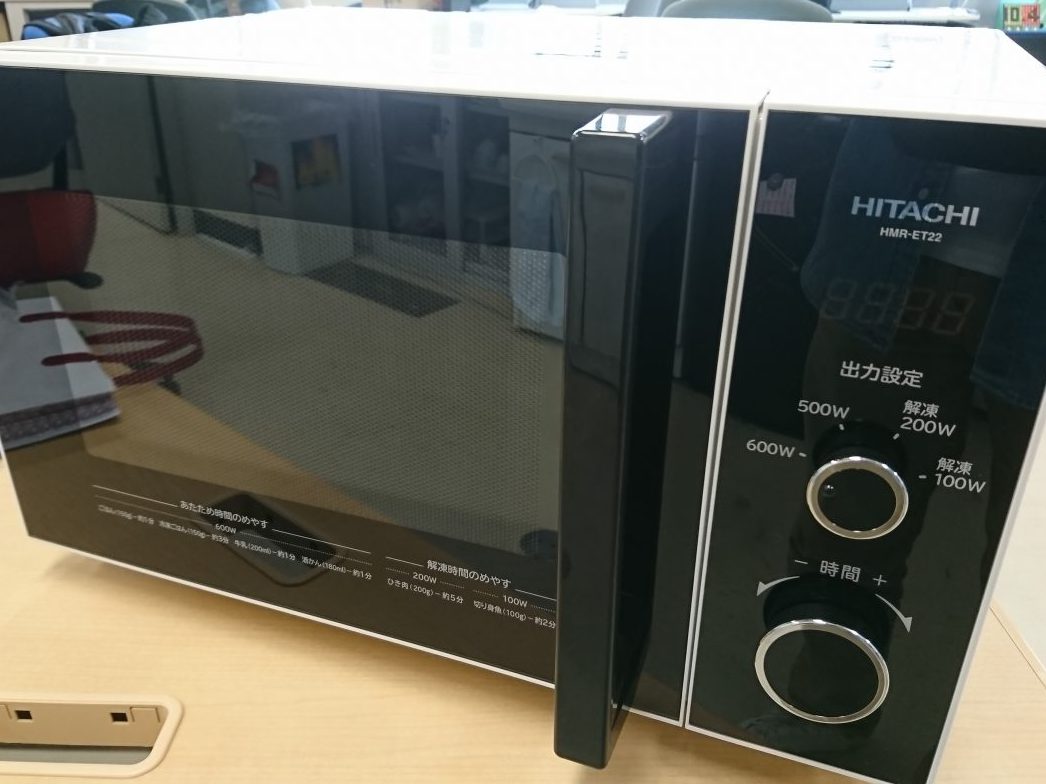 Gift from the FY2017 graduates. From Kondo, Ryu and Tsukuda. As an alternative to the the previous microwave which its turntable is not turning now.
AQUARIUM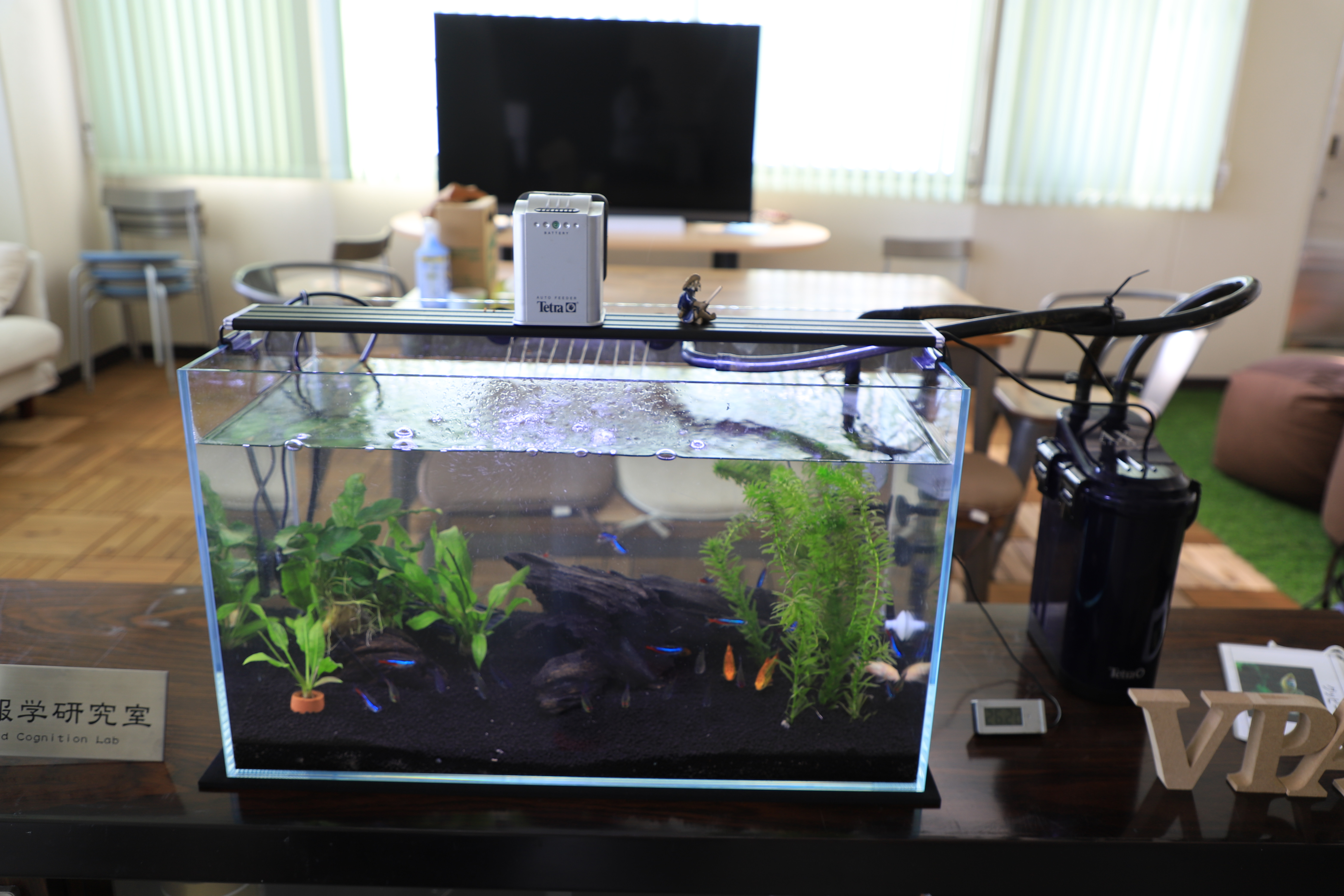 Gift from the FY2018 graduates. From Tamura, Ando, Shiromi, Syahir, Onodera and Jason. The high-brightness LED will make the clear frameless glass aquarium appear more beautiful.
Nabe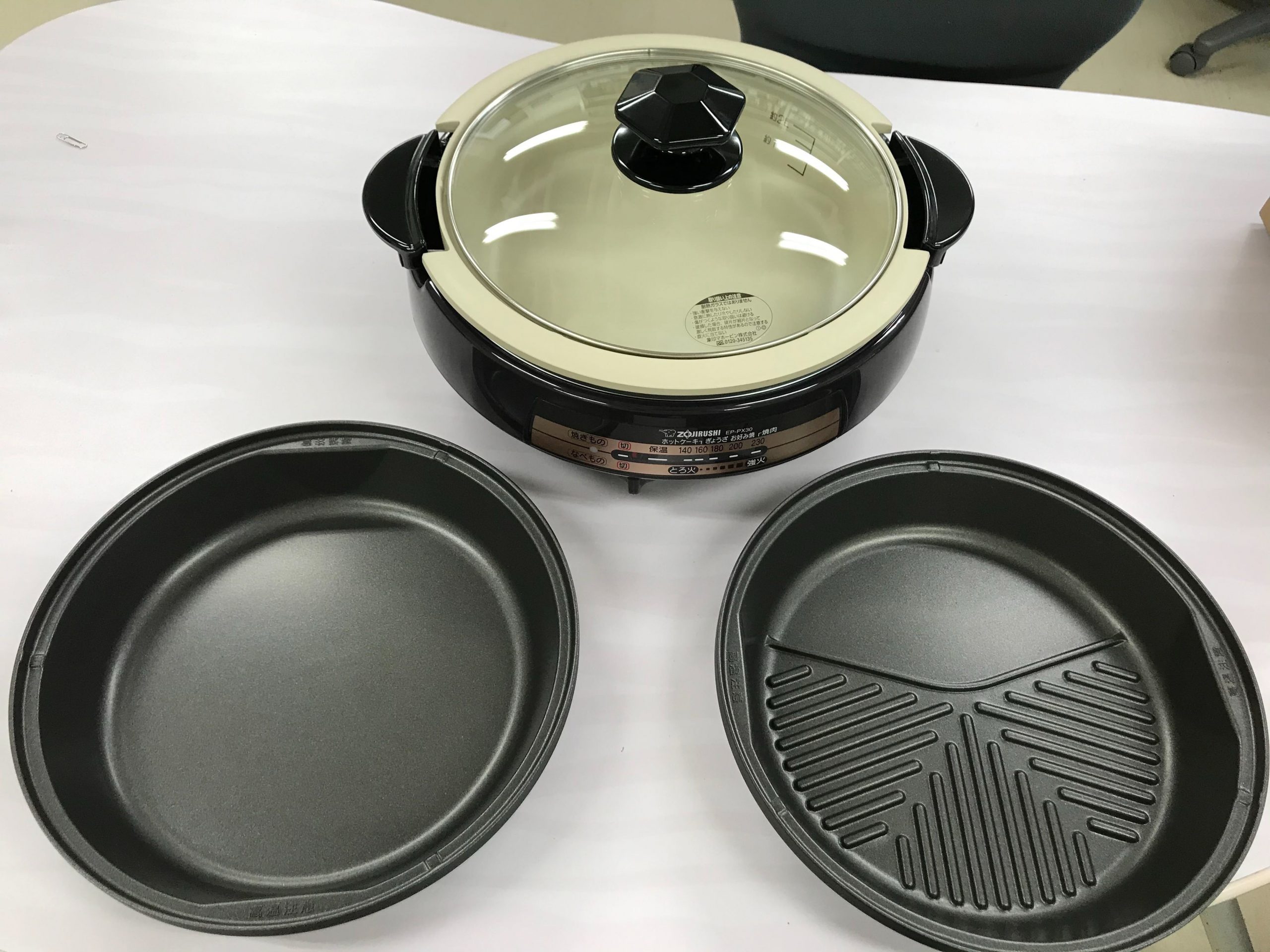 Gift from the FY2019 graduates. From Nihei, Suzuki, Shirai, Nishimoto and Ichiyanagi. With extension plates for Nabe, Sukiyaki and Yakiniku. It's sure to play a big part in the future.